Does this look like your lathe?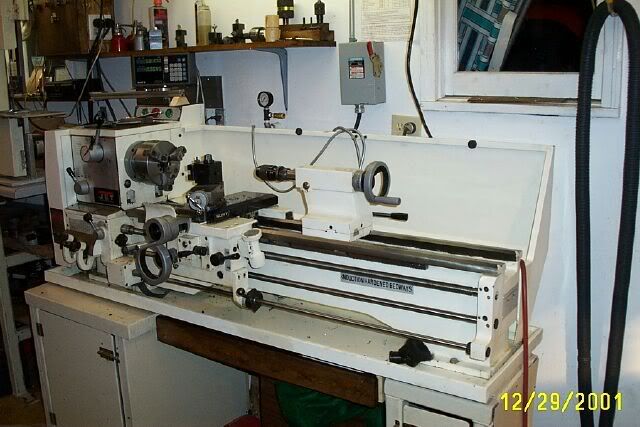 I bought this lathe 10 years ago and use it almost every day. I does everything I need it to do.
OK, I just checked my lathe. With a shaft extended 6" out from the chuck
I can grab the shaft and wiggle .002 total. It is not looseness but more like deflection. Keep in mind the spindle bearings are 12" away from the test point so the .002 is about what I would expect. I grabbed the chuck itself and was able to wiggle less than .001 total.
How does you lathe cut? If it does not chatter or cut outrageous tapers the lathe is fine. I think people feel because a machine is built in Asia there is something wrong with it so they look for problems. This is not always the case and not my experience with JET machines. After 10 years I have seen nothing to indicate a problems with straightness or concentricity in the lathe.
This how I run my JET lathe:
My depth of cut is never greater than .060 (.120 off dia) per pass. The lathe seems happy with that. I bought the lathe new and do not wish to buy another one so I pamper the one I have.
Rough down to .005 oversize. Next pass, take off .0025 and check. Next pass, take off the remaining amount. My lathe turns consistantly to +/-.0005. I have done work to +/-.0002 with extra effort. A DRO will make the lathe much easier to work with.
To decrease lathe feed rate, install the gear normally used for cutting metric threads. Only change the gear in the very center of the attached pic. I store those gears in small cloth bags so I know which gear is in the lathe. Of course you will need to change the gear back to cut SAE threads.
If the quilfeed on the tailstock starts feeling stiff or stickey check the quil.
There is a slot and a screw that prevents the quil from rotating while drilling. The slot may have burrs. Stone off the burrs. I also made a new screw for the slot.
Jim
_________________
Tool & Die Maker/Electrician, Retired 2007
So much to learn and so little time.
www.outbackmachineshop.com